Summary:
Customizing CSAT Emojis
Customizing CSAT emojis within your platform is a powerful tool that allows businesses to tailor their feedback collection to their brand's identity or even the current season or event. In this article, we will guide you on how to customize CSAT emojis within your platform and explore the benefits of doing so.
It's Effortless!
Customizing your CSAT emojis is a breeze! No need to worry about complex configurations in your PSA system or tricky steps. It's as simple as changing emojis in your Crewhu settings. Just make the switch, and like magic, all your survey snippets instantly transform.
Accessing the Ratings Menu
To start customizing your CSAT emojis, log in to your platform and navigate to the 'Surveys> CSAT. Within the CSAT customization menu, the key element to focus on is the 'Rating' field. This is where you can make adjustments to the emojis used for different survey responses: good, neutral, and bad.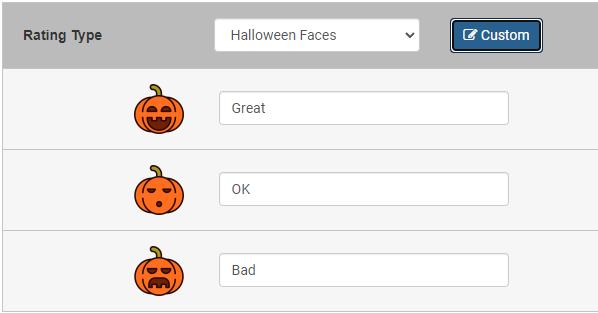 Presets and Customization
Your platform will likely offer a variety of preset emojis to choose from. These presets can be a great starting point, as they often align with common customer sentiments. However, to truly make your CSAT surveys unique, consider customizing the emojis to match your brand's personality or the current season.
The Halloween Effect
One exciting option to explore is the 'Halloween' preset. In October 2022, companies that switched to the Halloween-themed CSAT emojis reported a remarkable 8% increase in the quantity of feedback received. This unique and playful approach grabbed customers' attention and encouraged them to participate in the survey, providing valuable insights while keeping the Halloween spirit alive.
Benefits of Customization
Customizing CSAT emojis offers several benefits for your marketing and support efforts:
Brand Alignment: Custom emojis enable you to align your CSAT surveys with your brand's visual identity, reinforcing brand recognition.
Seasonal Promotions: Embracing seasonal presets like Halloween can make your surveys timely and relatable, encouraging more customers to participate.
Emotional Connection: Expressive emojis can convey emotions more effectively than standard ones, allowing customers to express their feelings accurately.
Feedback Quality: When customers feel that their feedback is heard and valued, they are more likely to provide detailed and actionable insights.