-

Summary
-
How to see your surveys (01:14)
-
Requirements
You will be able to see client feedback on tickets associated with you if your profile has view permissions for "Survey History". If you have permission, you will see the menu option CSAT in the left menu bar.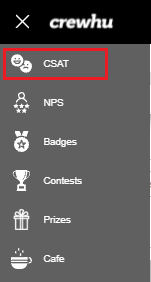 -
How much history can I see?
You can see the last 200 survey responses. In order to see more historical data, you will need to ask your manager or a Crewhu admin to run a report. The survey feedback is sorted by response date from newest to oldest.
-
What are the filters "reviewed", "not reviewed" and 'all"?
Reviewed - These surveys have either been marked reviewed automatically or marked reviewed as part of the closed-loop feedback process used to process feedback to make improvements or celebrate team wins.
Not reviewed - These surveys have not been marked as reviewed. They still need to be reviewed by the team member accountable for this task.
All- Shows both reviewed and unreviewed surveys up to the last 200 surveys based on survey reply date.
-
What does the survey history feed show?

Date - Shows date and time survey is answered.


Ticket# - Shows the ticket number associated with the client feedback so you can review additional information if necessary.


Customer - Shows client information for you or the team member responsible to respond back quickly to the end user if necessary. (*who responds back to the client feedback is dictated by your company's internal process. If you are unsure about this process speak with your manager).


Employees - Shows the employee(s) associated with the ticket.


Rating - Shows the rating the end user clicked.


Feedback - Shows optional written feedback given by the end user. If they left this textbox blank on the survey landing page the survey will show a "no feedback" message.


Type - Will identify if the survey was a resolved, reply or signature survey. For more information on survey types, click here.


Tags - Will show the tags added by the end user or survey administrator. Tags will identify areas that worked or didn't and will identify areas or strengths and opportunities.


IP Address - Will indicate the IP address from where the survey response came.


Reviewed - If checked, the survey has been reviewed.