Summary
How to give a badge (00:55)
What is peer recognition?
It is the ability to formally recognize a team member for a job well done which usually aligns with the core values and the company goals. The idea is to empower everyone in the organization to give recognition, creating a culture of appreciation and collaboration.
How do you give peer recognition?
Press the "Give badge" button at the top of the header bar in your Crewhu account:


Complete give badge page:


Badge budget remaining: this is your monthly badge allowance. Once you deplete the allowance, you will not be able to give any recognition until the following month. The badge budget resets on the 1st of the month.


Badge: Choose a badge available to your profile.
Points (Crewhu bucks): Choose the badge value if applicable. If the badge has a preset value, the Crewhu bucks will be added automatically.


User: Choose the team member you would like to recognize.


Message: Write a message about what they did, how that relates to the badge (core value), and how they inspired you.


Press the "Give Badge" button in the top right corner of the page: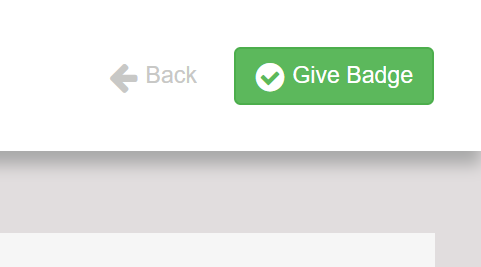 What happens when you give a badge?
A notification email is sent to the recipient;


The recognition is posted in the Cafe, which can be displayed on a big-screen dashboard or can be viewed in the Cafe, the social newsfeed of the Crewhu platform.


Do I have to log in to Crewhu to give a recognition badge?
Not necessarily. You can give a badge right from within Microsoft Teams and Slack. So you can avoid logging into Crewhu to give recognition. If your company uses one of these messaging apps, have your Crewhu admin contact us to learn more.