_
Summary
-
What is it
In Crewhu you can track your metrics with Gamification, which is a way of increasing performance in a variety of ways. This is done through contests, where you can compare your results with your colleagues in different metrics in a fun way and compete for the reward(s)!
-
How to see my Leaderboards
In order to know which contests you are participating in, and to see your position, simply click on the My Leaderboards orange button at the top:

Then you will see your current contests and your respective positions: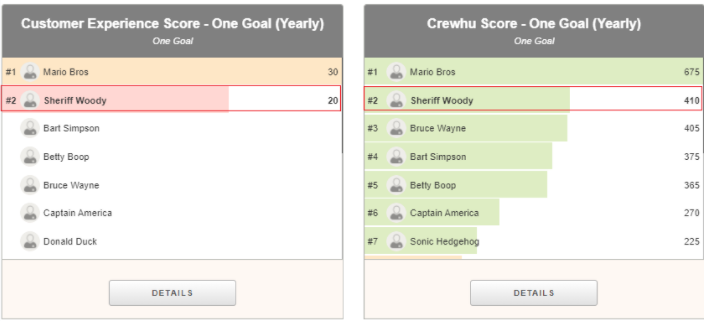 In this example, as I am Sheriff Woody, my name is in bold on the Leaderboard, so I can locate myself easily. Next to my name, there is the number of points that I've reached in the contest so far and my respective position.
Simply click on the Details button in order to get more information about the contest.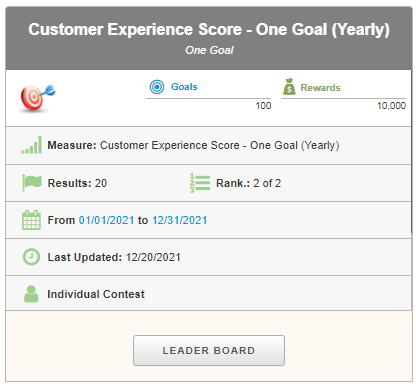 Goal: The minimum of points you have to reach in order to be eligible to win the contest. In this example, you will have to reach at least 100 points in the Customer Experience Score, which is a score that considers the surveys that you receive from your clients;
Measure: The metric of the contest - what the contest is about;
Results / Rank: Your current result and your position in comparison to the other participants;
From / To: The contest timeframe. In some cases, the contest is rewarded automatically at the end of the period of the contest. In other cases, the reward is done manually by the account admin;
Last Updated: The last time the contest updated its results;
Type of Contest: If it's an individual or group contest. In a group contest, you will compete alongside your team, working together to reach the goal and earning the same reward.
Note:
Each contest has different goals and ways of rewarding:
- If your name is over a red bar, it means you haven't reached the minimum goal, not being eligible to win the contest;
- If your name is over a green bar, that means that you've reached the minimum goal, however, winning the contest depends on the type of goal (one goal, places and etc) and your colleague's results.
- Contact the Account Admin if you have any questions about the contest.
_