_
Summary
-
What are the prizes
We work with a penny points system where 1$ is equal to 100 Crewhu Bucks. That means that with the Crewhu Bucks that you can get (through badges, surveys, and so on), you are able to redeem real prizes for yourself!
These prizes are chosen by the Account Admin(s) and purchased by your company.
-
How to redeem a prize
In order to redeem a prize, click on the orange button Buy Prizes at the top:

Choose the desired prize and click on its green button.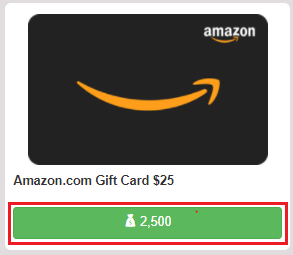 On the next page, click on the Buy button, and confirm your purchase.
Note: The total of the prize will be deducted from your current Crewhu Bucks balance, displayed at the top of your screen:


-
Who delivers my prize
There are two types of prize redemption. See the difference:
-
Manual Redemption
In this case, as soon as you redeem a prize, your request will be marked as pending on the Prize History, and the admin(s) and/or the manager(s) of the account will receive a notification. With this option, they are in charge of purchasing your prize and delivering it to you.
After that, the manager can mark the prize as Processed on the Prize History.
Note:
Crewhu is not responsible for delivering the prizes. So please contact your management in case you have not received yours.
-
Prize Automation
If your Account Admin enabled the Prize Automation Feature, as soon as you redeem your prize, you will receive it automatically in your email. This feature is only available for Gift Cards at the moment.
Note:
The Prize Automation feature is available for the Badass Plan and only for companies located in the US at the moment. Refer to this article to know more: Prize Automation - Process prize requests automatically.
_