_
Summary
_
What is it
Welcome to the world of effortless rewards with Crewhu's Prize Automation feature! Imagine your crew collecting their hard-earned rewards without lifting a finger.
Here's the deal: When your crew shines with top-notch survey ratings, snazzy badges, or victorious contest wins, they earn Crewhu Bucks. And yes, they absolutely deserve it! But here's the kicker – no more fussing over handpicking, purchasing, and delivering these prizes to your crew. It's all taken care of automatically, freeing up your time to focus on your own tasks.
We've Got Your Back!
Crewhu's Prize Automation feature comes to the rescue, ready to make your life easier. And if you like, it can seamlessly integrate with your existing manual prize system for ultimate convenience.
Note:
This feature is available for every Badass client. The only requirement is to add a credit card for prize payments.
-
List of Automated Gift cards by prize
1-800-FLOWERS.COM® eGift Card: $25, $50
Amazon.com eGift Card: $25, $50, $75, $100
Applebee's® eGift Card: $25, $50, $75, $100
Bass Pro Shops eGift Card: $25, $50, $100
Chipotle Gift eCard: $25, $50
Delta eGift Card: $50, $100, $250, $500
Fandango eGift Card: $25, $50
Gap eGift Card: $25, $50, $75, $100
Grubhub eGift Card: $25, $50, $75, $100
Home Depot eGift Card: $25, $50, $100
Hulu eGift Card: $25, $50
Instacart: $25, $50
Nintendo eShop Card: $20, $35, $50
PlayStation®Store eGift Card: $25, $50, $75, $100
Sling TV eGift Card: $25, $50, $100
Southwest Airlines eGift Card: $50, $100, $200
Spotify eGift Card: $30, $60, $99
Taco Bell eGift Card: $25, $50
Texas Roadhouse eGift Card: $25, $50, $100
TJX (T.J. Maxx, Marshalls, HomeGoods, Sierra, HomeSense) eGift Card: $25, $50, $100
Xbox eGift Card: $20, $25, $50, $100
-
How it works
Setting up Prize Automation is a simple three-step process:
Enable the feature.
Add your credit card information.
Activate the automated prizes.
That's it! You will be up and running in less than 5 minutes.
-
Enable the feature and add a Credit Card
Locate the Recognition > Prizes menu on the left side of the screen.
Enable the Prize Automation feature and input your credit card information.

Important:
- You will need to enter your credit card information to activate the feature even if you already have a credit card on file for the subscription.
- There will be a 5% service fee to cover credit card processing costs each time there is a prize redemption i.e.: If an employee redeems a $10 Amazon gift card, $10.50 will be charged to the credit card on file.
-
Activate the prizes
Once the step above is done, you will be able to see all the available automated prizes in your Prizes List. All the prizes will be inactive, so you have to click on the ones you are interested in, one by one, and activate them.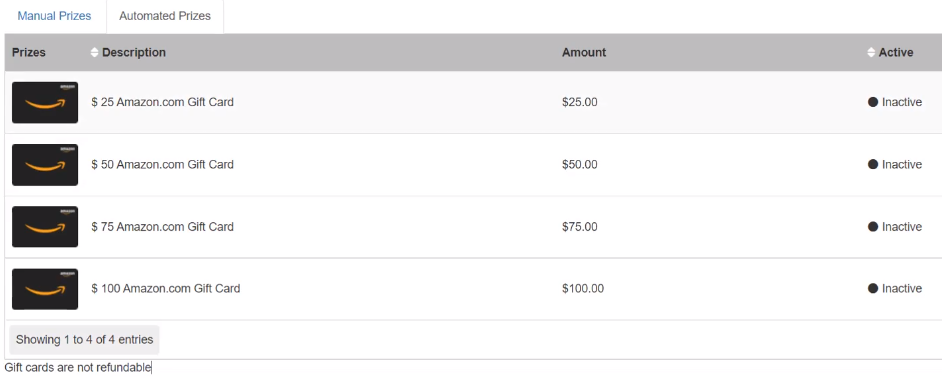 Important:
Automated gift cards are not refundable.
-
How to Redeem the Prizes
The steps to redeem automated prizes are similar to manual prizes. The automated prizes will be displayed along with the manual prizes.
Click on the "Buy Prizes" button.

Select the prize you want.

Click on the green button, then on "Buy" button to redeem.

A window will pop up. Click accept to confirm the purchase: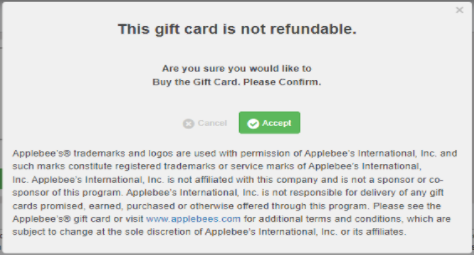 A "congratulations" message will appear, and the prize will be sent to your email
Important:
Check your spam folder if you did not receive your prize in your mailbox. Depending on the firewall settings of your company, the prize can be sent directly to your spam folder. If you still do not see it, contact support at support@crewhu.com.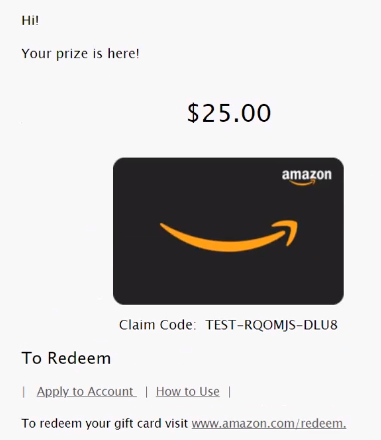 Security Rules:
1) On Trial accounts cannot redeem prizes;
2) Accounts can only redeem prizes after 30 days of their first subscription payment;
3) Each employee can only redeem one automated prize a day;
4) Automated prizes can be redeemed only one at a time.
-
Credit Cards Management
If you go to Company Profile > Prizes Info, you will be able to change the credit card configured for rewards payment:

Note:
The CC for payment of prizes may be different from the CC used for the subscription.
At the bottom of the page, you will have a new tab called Prizes, where you can verify the card transactions as well as download their respective receipts:

Also, on this page, you can check your bonus balance.
-
Card Failures
If the employee gets an error message while attempting to purchase a prize, such as the example below, the admin can take the following steps:

Go to Prizes History;
Filter by Failed or All;




Click on the Failed transaction:




Click on Try Again or Change Card, in accordance with what action needs to be taken in order to correct the issue:
The reason provided is displayed by the Credit Card operator.
_