_
Summary
_
What is it
When your crew receives great survey ratings, are given badges, or win contests, they can earn Crewhu Bucks, and they can use those Bucks to redeem cool prizes in the Crewhu store. And I agree, they deserve it! However, up until now, you needed to choose, purchase and deliver the redeemed prizes to your crew, which is important, but has also taken time away from your other work.
Don't worry, we got your back!
Crewhu's new prize automation feature, completely eliminated the time spent curating, procuring and delivering redeemed prizes to your Crew, or at least severely reduces time spent if you want to have a mix of both your new automated prizes combined with your existing manual prizes.
Note:
This feature is available for every Badass client. The only requirement is to add a credit card for prize payments.
-
List of Gift cards by prize
1-800-FLOWERS.COM® Gift Card: $25.00, $50.00
Amazon.com Gift Card: $25.00, $50.00, $75.00, $100.00
Applebee's® eGift Card: $25.00, $50.00, $75.00, $100.00
Chipotle Gift Card: $25.00, $50.00
Delta eGift Card: $50.00, $100.00, $250.00, $500.00
Fandango Gift Card: $25.00, $50.00
Gap eGiftCard: $25.00, $50.00, $75.00, $100.00
Grubhub Gift Card: $25.00, $50.00, $75.00, $100.00
Nintendo eShop Card: $20.00, $35.00, $50.00
PlayStation®Store Card: $25.00, $50.00, $75.00, $100.00
Spotify Gift Card: $30.00, $60.00, $99.00
Taco Bell eGift Card: $25.00, $50.00
Xbox Digital Gift Card: $20.00, $25.00, $50.00, $100.00
-
How it works
Once you have access to this feature, setup is a 3 step process:
Enable feature
Add your credit card
Activate the automated prizes
That's it. You will be up and running in less than 5 minutes.
-
Enable the feature and add a Credit Card
You have to go to Settings > Prizes > Automated Prizes, flag the Prize Automation box, and add the Credit Card information, which will be used to purchase the prizes requested by the employees:

Important:
- You will need to enter in your credit card information to activate the feature even if you already have a credit card on file for the subscription.
- There will be a 5% service fee to cover credit card processing costs each time there is a prize redemption i.e: If an employee redeems a $10 Amazon giftcard, $10.50 will be charged to the credit card on file.
-
Activate the prizes
Once the step above is done, you will be brought back to the Prizes List, where you will be able to see all the available automated prizes: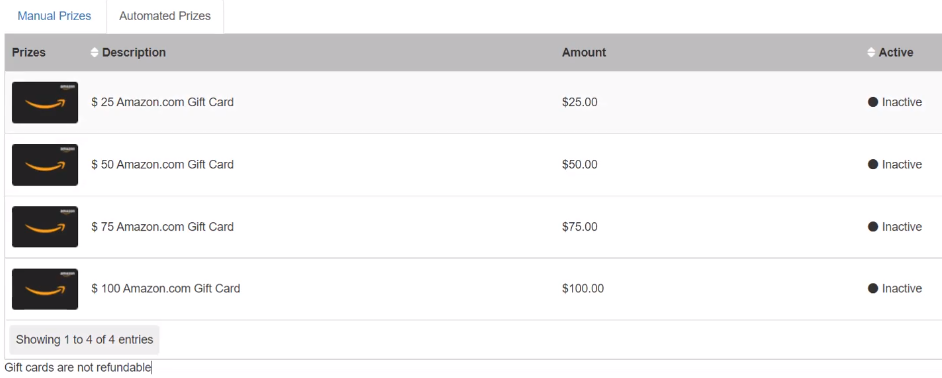 All the prizes will be inactive, so you have to click on the ones you are interested in, one by one, and activate them.

Important:
Automated gift cards are not refundable.
-
How to Redeem the Prizes
The steps to redeem automated prizes are similar to manual prizes. First, you have to click on the top orange button Buy Prizes:

The automated prizes will be displayed along with the manual prizes:

To redeem it, you have to click on its green button, and on the next page, on the Buy button:

A window will pop up. Click accept to confirm the purchase: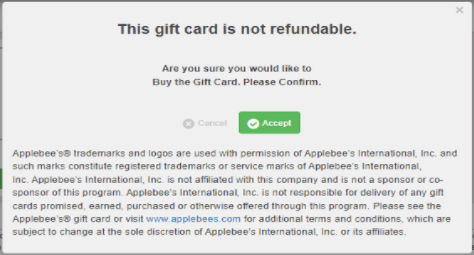 After confirming, a "congratulations" message will be displayed, and the prize will be sent to your email, as the example below: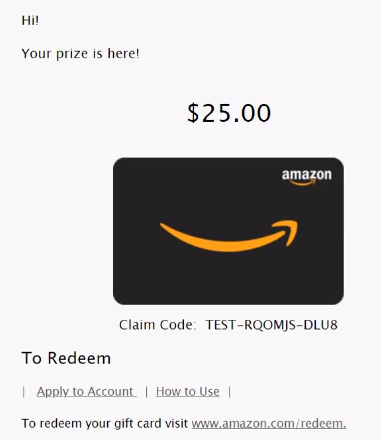 Security Rules:
1) Customers On Trial can't redeem prizes;
2) Customers can only redeem prizes after 30 days of their first subscription payment;
3) Each employee can only redeem one automated prize a day;
4) Automated prizes can be redeemed only one at a time.
-
Credit Cards Management
If you go to Company Profile > Prizes Info, you will be able to change the credit card configured for rewards payment:

Note:
The CC for payment of prizes may be different from the CC used for the subscription.
At the bottom of the page, you will have a new tab called Prizes, where you can verify the card transactions as well as download their respective receipts:

Also, on this page, you can check your bonus balance.
-
Card Failures
If the employee gets an error message while attempting to purchase a prize, such as the example below, the admin can take the following steps:

Go to Prizes History;
Filter by Failed or All;




Click on the Failed transaction:




Click on Try Again or Change Card, in accordance with what action needs to be taken in order to correct the issue:

The reason provided is displayed by the Credit Card operator.
_