_
Summary
_
Why Are Notifications Important
Notifications make actions performed in Crewhu public and transparent. It is important to notify the right people quickly such as when urgent customer feedback comes is received. It is also important to communicate achievements in order to properly recognize great work.
Notifications are a very important part of the celebration of the small wins on a daily basis, keeping everyone engaged in the goals and core values of your company.
Go to Setup > Notifications in the left sidebar menu to view/edit your current notification settings: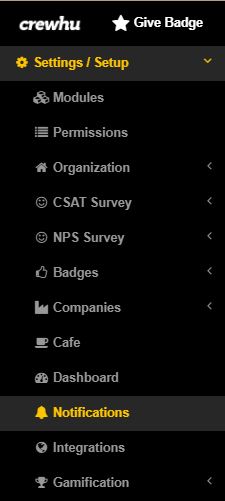 _
Default settings by profile
At the top of the page, there is the "Default" section to help make the adjustments quicker, setting the same rule by profiles for all templates at once with just one click.
It will still be possible to set rules different than the one set as default for each profile and for each specific message. (Click to learn more)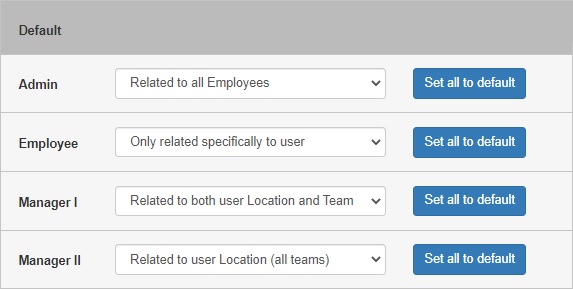 _
Types of notification

In the header, there are buttons to easily flag in all sections and for all actions at once, the checkboxes to enable the different types of notification.

1

- Email
Communication sent to the users' email addresses as informed on the "Email" field of their profiles. Crewhu is the email sender and the messages are pre-defined standard templates.
Click here to see examples of the messages.
2

- Push
Alerts displayed on the bell icon next to the "What's Up!" menu: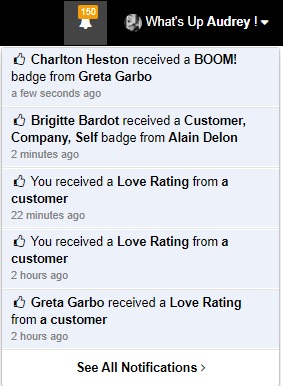 Note:
Push notifications also define the alerts on the mobile app. Click to download:


_
Profile definition per message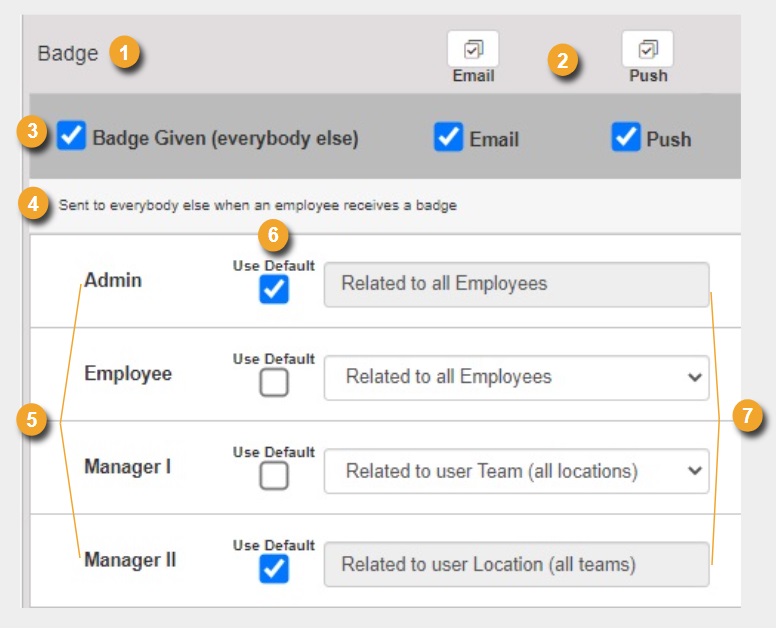 1 - Section: The title indicates the feature that the messages will be related to
2 - Type: Flag to enable if the action should trigger notifications via Email and/or Push. (Click to learn more)
3 - Action: Activity that triggers the notification
4 - Description: Detailed explanation of the action that triggers the notification
5 - Profiles: A list with all currently active profiles. (Click to learn more)
6 - Default setting: Flag to enable the rule defined on the Default section. (Click to learn more)
7 - Rule: When the "Use Default" option is disabled, it is possible to choose a rule from the drop-down menu. The options are:
● Related to all Employees
● Related to both user Location and Team
● Related to both user Location (all Teams)
● Related to both user Team (all Locations)
● Only related specifically to user
● none
_
Badge Engagement
In order to increase the number of badges given by the employees, for a better badge engagement, it is possible to trigger a notification when there is no badge activity within the number of days set.
Go to Setup > Notifications and click on the menu Engagement Triggers: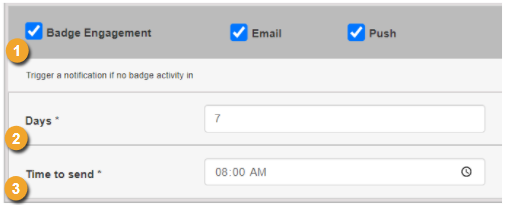 1 - Action: Activity that triggers the notification
2 - Days: If the employee didn't give a badge in the last number of days informed, a notification will be sent as a reminder
3 - Time to send: What time the notification will be sent, if the lack of badge activity reach the days informed above
_