Summary
_
What is it?
Our Autotask integration will allow you to bring tickets data automatically into your Crewhu account and set up contests for metrics that will lead to higher customer satisfaction measured by CSAT%.
-
Why does this matter?
Gamification is the best way to change behavior and habits that will not only help the individual but also the team and the organization as a whole. The Autotask integration will make it very easy to launch a gamification program that focuses on the metrics that matter to maintain a culture of amazing customer service and collaboration.
_
3 Categories of Metrics That Matter
1. Ticket Completeness
The purpose of a ticketing system other than to answer your client's issue in an efficient manner is to collect data, improve your process, and ultimately the customer experience for your clients. However, if your team is not collecting the right ticket information you will not know where to focus. You know the old saying: "Garbage in, garbage out".
_
Categorized Tickets
A well-documented ticket will have a categorized:
Issue Type
Sub-issue Type
Metrics that will help your team focus on delivering correctly categorized are:
% of categorized tickets - These are the % of tickets an individual or team has completed in a specific time frame that has issue type and sub-issue type.
# of tickets complete with "Issue Type" categorized.
# of tickets complete with "Sub-Issue Type" categorized.
# of no contract tickets complete - These are the number of tickets not attached to a contract, which makes it difficult to charge the customer for the service.
_
2. Ticket SLA
Service Level Agreements is not only a promise you make to your clients but it is also a way to prove your value. The metrics most closely linked to high customer service scores are average first response times and average resolution times. Focus on these and high customer satisfaction will follow.
# of complete tickets - # of tickets set to status "complete"
Average Resolution Time - time from ticket submission to first response + time in resolution plan status + time in resolution status. Resolution time does not include non-work hours such as weekends nor time when in status "waiting for customer response".
Average Response Time - the time from ticket submission from the first response to the customer.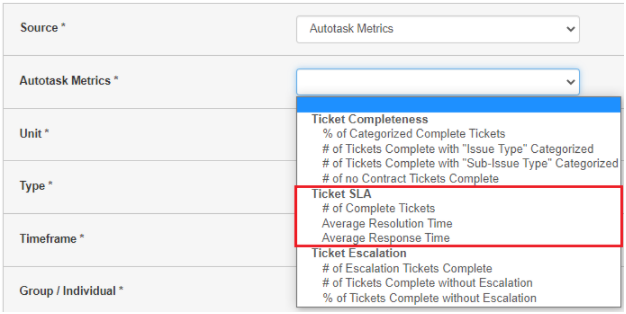 Notes:
• Average resolution time and Average response time are measured in hours.
_
3. Ticket Escalation
Usually, the root cause of not hitting SLA metrics can be linked to your staff's knowledge, incorrect triage, or undocumented processes, or endpoints. In a perfect world, you would hit your SLAs 100% of the time and there would be zero escalations. However, since the world isn't perfect you should focus on the below metrics to manage efficiency. You should also recognize those that are helping resolve escalations and answering tickets without escalation. Soon you will see your ticket escalations decrease along with your resolution time and client satisfaction.
# of escalation tickets complete - escalation tickets are tickets that have secondary resource.
# of tickets complete without escalation - number of tickets that don't have a secondary resource.
% of tickets complete without escalation - % of tickets completed without a secondary resource compared to all the tickets completed.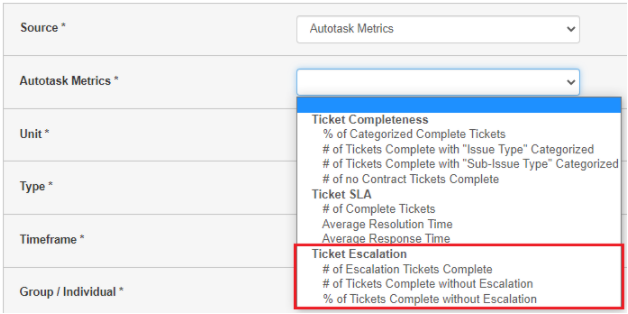 _
How Does it Work?
_
Selecting the Boards
After setting your integration with Autotask REST, you can start collecting ticket information to populate the metrics.
Note:
If you are using the integration Autotask SOAP, you need to change to Autotask REST, in order to be able to use all of the benefits of the integration. Click here for more details.
Access Settings > CSAT, locate the Miscellaneous section and enable the "Bring ticket data from PSA" to display a list with your service ticket boards. Select all, one or multiple boards.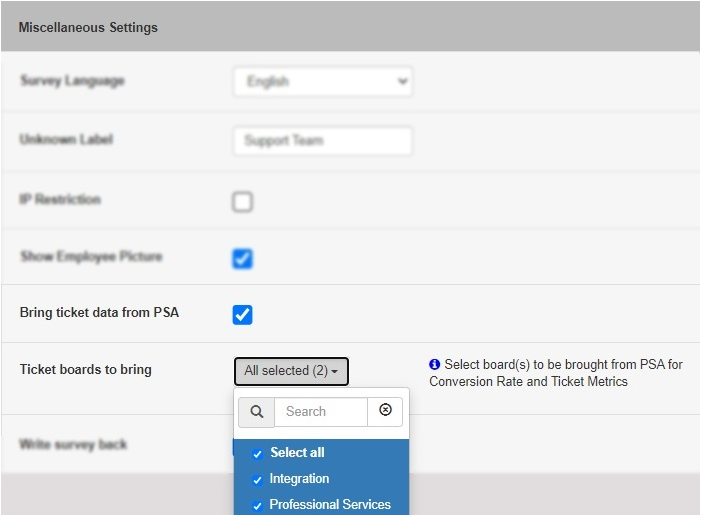 Note:
• It can take up to 15 minutes for the system to give you an updated list of the service boards, which is the periodicity of our API call;
• Ticket data will be collected from the 1st day of the month on which the boards are selected.
_
Creating a Contest
Go to Contests and click the "+Add" button to create a new contest.
Choose "Crewhu Metrics" as the contest Source and select the metric from the drop-down.
Note:
Click here for more details on how to create SMART Contests;
It is possible to combine these metrics and create customized scores. For example: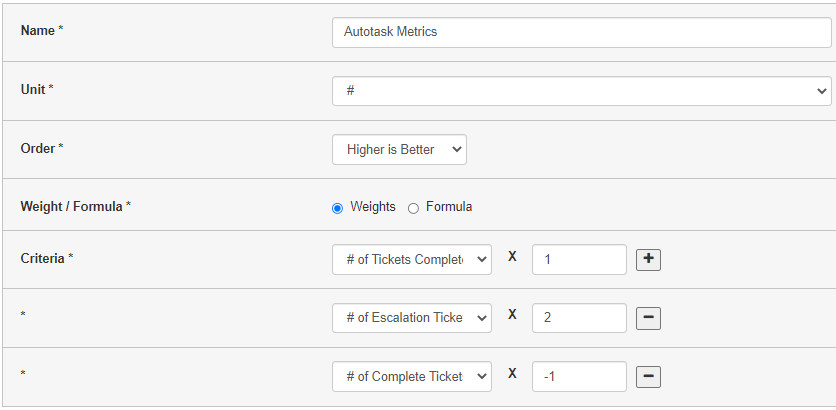 Note:
Click here for more details on how to create Scores;