Summary
_
Purpose
This article will guide you through the process of creating new badges and editing existing ones. However, we do recommend that you familiarize yourself with Badge Settings before getting started.
_
What are Badges
Peer-to-peer badges allow team members to recognize one another for living company core values daily, fostering consistent and positive company culture. Moreover, badges motivate employees to do incredible work, wow-ing customers, and make the working environment a better place.
_
Create or Edit Badges
Go to Settings > Recognition > Badges List:
Click the "+Add" button at the top right corner to create a new one, or click a badge on the list to edit it.

Best Practice:
Consider adding your core values to the Badges List.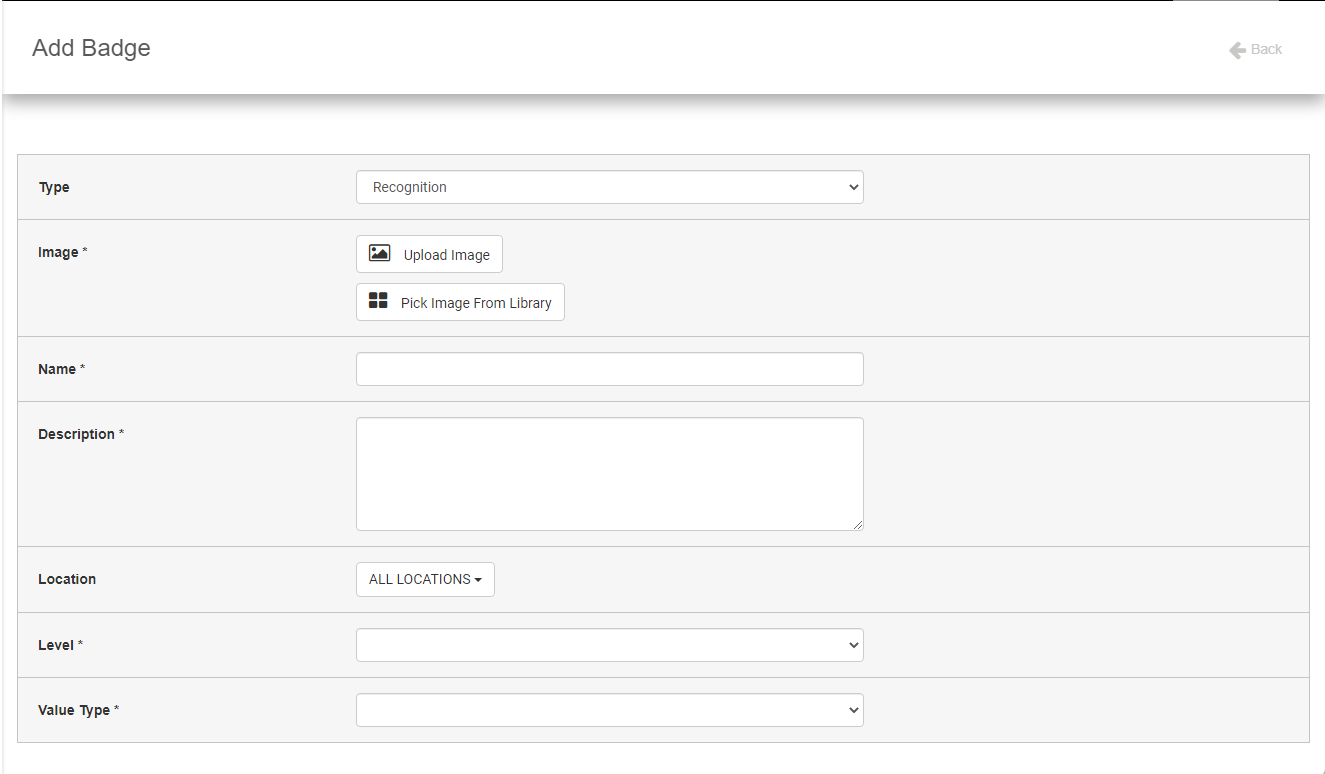 Type:
There are three types of badges: Recognition Badges, which are awarded manually by users, and Birthday and Anniversary Badges, which will be triggered automatically based on users' hire and birth dates. Click here to learn more about Birthday and Anniversary badges.
Image:
Pick one from the library or upload your own.
Name
Description
Location:
Restricts a badge to be given only by the users on the selected locations.

Level:
The levels are Peer, Manager, and Executive. On the Badge Settings page, define the maximum badge level that will be available to which profile to award.

Value Type:
This field allows you to control the value of the badge by selecting the value type from the following options:


Default: It will set the badge to the default value defined on the Badge Settings page, according to the level selected.
Pick: Defines a fixed value to be rewarded by the badge.
Range: Provides the badge giver with a range of predetermined intervals.

For example, you could set a range from 100 to 200 with an interval of 50, which would automatically create values at 100, 150, and 200.

Open: This option requires you to set a value every time you give the badge.
_
Inactivating or removing badges
To deactivate or remove the desired Badge, click on one of the two options in the top right corner.

Note:
You will only be able to remove a Badge if it was not used along Crewhu. Otherwise, even if you click on remove, it will be only inactivated.
You can filter your badges by status as shown in the image:

_
Use your Badge as a Template
If you have an existing Badge that is similar to the one you want to create, you can open the Badge and click on the "Copy" button located in the top right corner to create a duplicate of the Badge.

After creating a duplicate of the Badge, you can make any necessary edits to the information and then save the new Badge by clicking on the green "Save" button.