_
Summary
_
What is it
Our direct integration with Max Classic provides integrated sales tracking so you can set up contests for metrics that matter for sales and marketing teams.
_
Why does this Matter
Gamification is the best way to change behavior and habits that will not only help the individual, but also the team and the organization as a whole. The Max Classic metrics integration will make it very easy to launch a gamification program that focuses on the metrics that matter, so you can easily recognize your employees for a job well done by focusing on the metrics.
_
Metrics that Matter
Tracking the Sales Metrics will help MSPs to make the sales funnel more efficient.
Number of Calls:

The purpose of this metric is to identify if the sales team is performing calls;

Number of Appointments: This metric is to measure if the sales employees are setting appointments;
Number of Opportunities: The goal here is to measure how many appointments turned to opportunities;
Number of Opportunities Closed Won: This metric is to measure how many opportunities are closed as won;
-
How does it Work
After setting your integration with Keap Max Classic, you can start collecting ticket information to populate the metrics.
Go to Crewhu platform;
Access Settings > Integrations;
Locate the Keap Max Classic integration and click the Configure Integration button;
You will be redirected to Keap, and must log in;
Select the application that Crewhu must access and click Allow;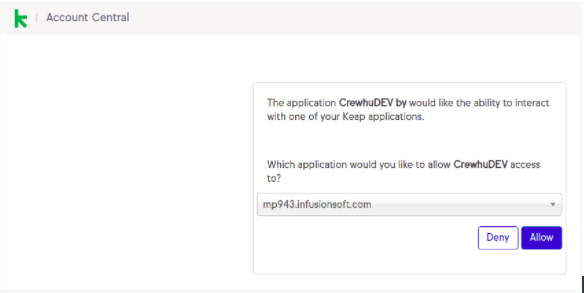 You will be redirected to Crewhu integration page again, and will see the message Integration Tested Ok!;

-
Creating a Contest
Go to Contests;
Click the +Add button;
Choose Keap Max Classic as the contest Source and select the metric from the drop-down, as shown: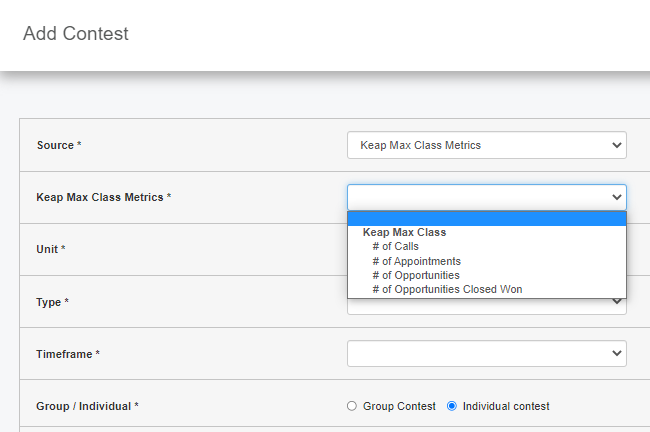 Note:
Refer to our article to know more about how to Create SMART Contests
It is possible to combine these metrics and create customized scores. For example: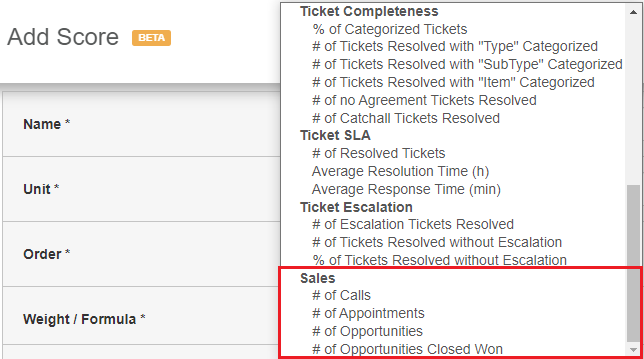 Note:
Refer to our article to know more about how to create Scores
-
How to Assign the Results to the Correct Employee
Add the user ID to the employee profile on Crewhu:
The employee ID field has tags format and accepts multiple entries;
Note:
To be a contestant on a Sales metric contest, the user must be active on both Keap and Crewhu and have matching IDs.