Business Purpose
Integrate with tixt.us to send Crewhu's CSAT Surveys via SMS, to your clients that opened a ticket in Connectwise using the text message channel. This increases the chances to collect valuable feedback from clients, especially when many are working remotely.
Set up Crewhu & Tixt Integration
1. In Crewhu:
Go to Settings > Integration > Open API Access Tokens > Add:

Give it a name (i.e. Tixt), and click Confirm: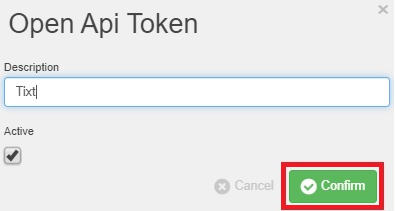 In the Open API Access Tokens section, find the Tixt token that you just created and click Copy Token:

2. In Tixt:
Go to Configurations > Survey Integration, paste the Crewhu Open API Access Token and click Save: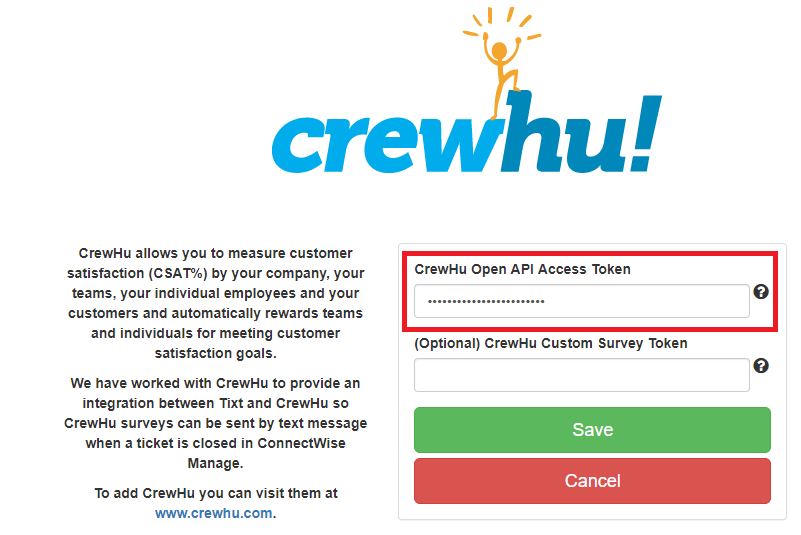 The integration process is now complete.
Note:
In Crewhu, go to Settings > CSAT to activate the Resolved and Reply Surveys. Click to learn about the differences. In the example below, both Reply and Resolved surveys were activated.
Custom Survey Settings
If Connectwise is configured as a Custom CSAT in Crewhu (not in the main CSAT), you have to activate the Resolved and Reply surveys in the respective Custom CSAT, copy its token, and paste it in the field Crewhu Custom Survey Token in Tixt settings, as shown:
In Crewhu:

In Tixt:
Create a Ticket via SMS and test the CSAT Surveys
Send an SMS to your support phone number to open a test ticket in Connectwise:

After a few seconds, you will receive two messages like the ones below:


Go to Connectwise, locate the ticket, and add a New Note to trigger an SMS message:

Click on the Reply Survey link to answer it. In Connectwise, mark the ticket as Completed (or other status that will trigger the Resolved Survey notification to the client) and Save. After a few seconds the client will receive an SMS with the Resolved Survey:

Answer the survey and find the client feedback in Crewhu (Operations > Survey History):

Best Practice:
Remove your test surveys from your Survey History to preserve your real CSAT%
Notes:
- The actions that Tixt Surveys will trigger, such as notifications, MS Teams posts, Online Reviews, Testimonials, etc) will follow the same rules for your main Connectwise integration.
- If you are not sure which number to use to open a test ticket, sign in to tixt.us and click on Dashboard.
Thank you for reading this article. If you have any questions please contact us at support@crewhu.com.
Please take a moment to leave us your honest opinion by simply clicking on one of the faces below.
How was this article?

Great
Ok
Bad