Requirements
This feature released in 02/17/19 is available to 2019 Standard, Pro, and Badass plans. 
Business Purpose
The Ticket Summary increases the value of the information present in the survey. 
When reviewing the CSAT details with clients, it is important to be able to access the nature of the services that were rated.
Activation
If your Crewhu subscription started before this feature was released and you are on the 2019 Standard, Pro or Badass Plan, this feature is already activated. However,  in order for it to work, it is essential that you replace the survey snippet(s) on the ticketing system. If you need help doing that, please refer to our knowledge base or contact support@crewhu.com. Below are the links for our two most popular integrations where you can find step-by-step instructions on how to replace the snippet:
Connectwise Onboarding Guide v2
Feature Description
Once you replace your snippet, the ticket summary (title or subject) will populate the survey link alongside all the other information such as ticket number, employee ID, rating, etc. 
The ticket summary will be visible in several places: 
1) On your Survey History: position the mouse on top of the ticket number to see a tooltip with the ticket summary:

2) On your CSAT Details report:
The ticket summary is on the first line next to the rating. The second line shows the customer feedback:

3) On your email notifications:
The Ticket Summary will be visible in the Survey Closed, Survey Thank You and Survey Badge notifications, next to the ticket number as in the image below: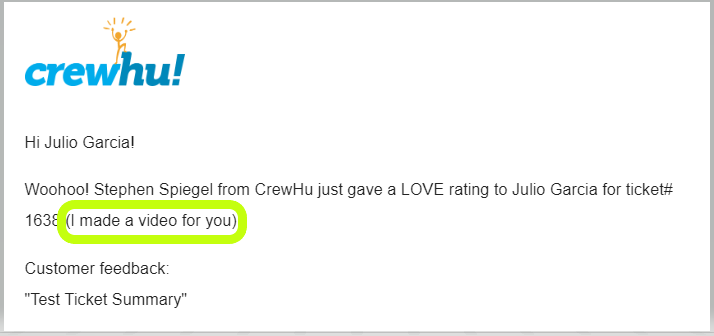 4) On your Premium Integrations:
The example below shows how the Ticket Summary appears on Slack, next to the ticket number:

The following image shows the Ticket Summary on MS Teams, also next to the ticket number:

5) On the Cafe posts: