Summary
This guide will show you how to configure Crewhu survey settings and install the Crewhu survey snippet into Kaseya BMS to get a higher number of survey responses. The analytics that you capture will help you measure and improve your customer service to keep customer retention high. This module will also let you reward high performers to help reinforce amazing customer service throughout your company. So let's get started!
Configure Crewhu survey settings and activate Kaseya BMS Integration
1. In Crewhu, go to Settings > Survey: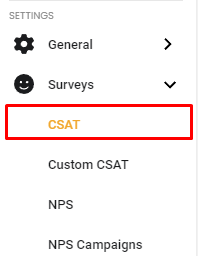 2. Upload an image of your logo. For best results use any size that respects the same aspect ratio of the following minimum size: 342px width x 216px height. Your logo will brand your 1-click CSAT survey.



3. Integration Partner: Select Kaseya BMS from the drop-down menu:

4. Rating Type: select default images from the dropdown menu, customize the rating labels and upload your own survey faces using the Custom Survey Faces feature.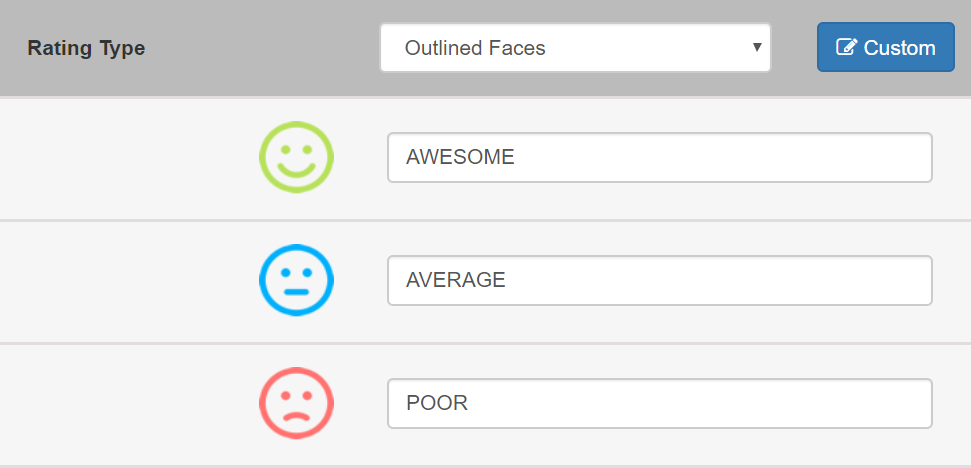 5. Miscellaneous Settings:

Survey Language - select from the drop-down menu;
Unknown Label - Customize how Crewhu will call the employee with ID mismatch.
IP Restriction - used to restrict an IP from answering surveys. For example, your company network. This is not a good setting to use if you would like to track surveys for internal tickets;
Show employee picture -

Highly recommended!

When this setting is activated it will show the employee picture that has been uploaded to the employee record (Setup > Employees) in the survey;
6. CSAT Widget - activate to make your customer satisfaction score public. You can add the widget HTML to your website or email signature.




Best practice: activate the CSAT widget 30-60 days after launching the Crewhu platform so you are highlighting a good sample of survey feedback.
7. Notifications - Configure survey email notifications:

When to notify: choose when an email notification should go out for each rating type: Always, Only with a comment, or Never.
Also Employee: Choose to notify the employee(s) involved with the ticket.
Settings by Profile: click to add extra filters and triggers to each profile. To learn more about notifications click on Crewhu Notifications: Management and Details
Best Practice: Start with notifications set for Always for all ratings and then add filters later. Also, allow your employees to receive notifications.
8. Mark as Reviewed Automatically - This can help you close the survey loop automatically. We recommend start with all 3 ratings marked as never and add filters in a later stage. The options available on the drop-down menu are Always, Never and When no Comments:

9. Resolved Surveys - turn on, choose to send a badge to the employee that received a Love rating (optional) and set the value for the badge (penny point system: 100 crewhu bucks = $1). Then click on View/Copy:

Kaseya supports both Reply and Resolved Surveys. Each of them can be used on different email templates, depending on your Kaseya workflow. To learn more about the types of surveys available in Crewhu click on Setup Resolved, Reply and Signature Surveys. For this example, we used the Resolved snippet:
10. Copy to Clipboard - copy the source code to your clipboard ready to be pasted into the appropriate email template in Kaseya BMS.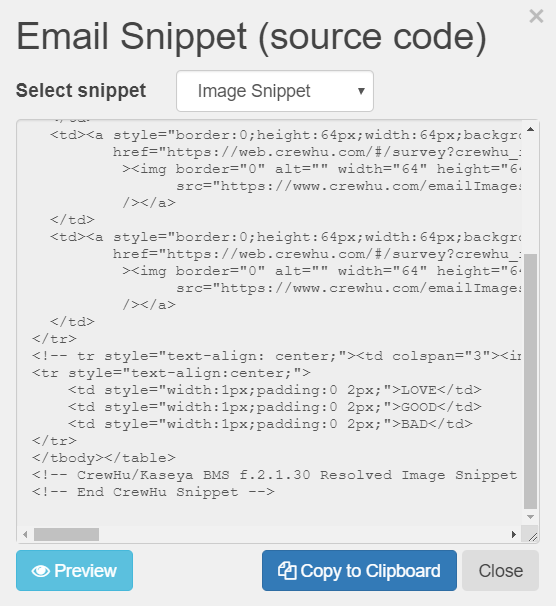 There are 2 options: Image Snippet (3 faces) or Text only Snippet. The text option will not be blocked by an image filter: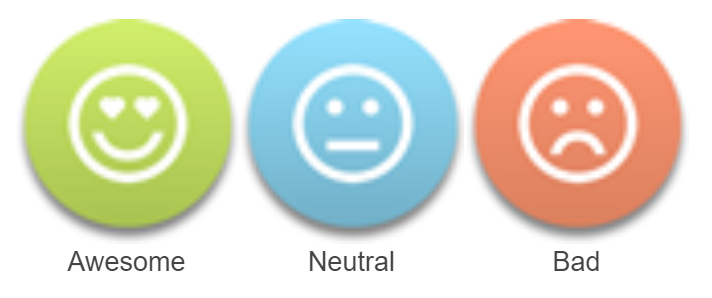 Best practice: The more popular option is the faces because they are more engaging. You can A/B test. Try the image snippet for one month and then try the text only snippet for one month and see which option yields the best results.
OBS: At this point, you are ready to SAVE your settings and continue to Kaseya to test the snippet. You can revisit steps #11, #12, #13 and #14 after testing the survey.
11. Survey page Copy - Once your clients click on one of the faces, they will be redirected to the survey landing page where they can change the rating, add tags and written feedback. You can personalize the message for each rating. Below are the default messages:

12. Survey Thank you Page - Click on End-user Notification to trigger a message and appreciate your client's feedback. This also helps to prevent someone else from answering the survey on your client's behalf. You can personalize messages for each rating or Use the same message for all ratings: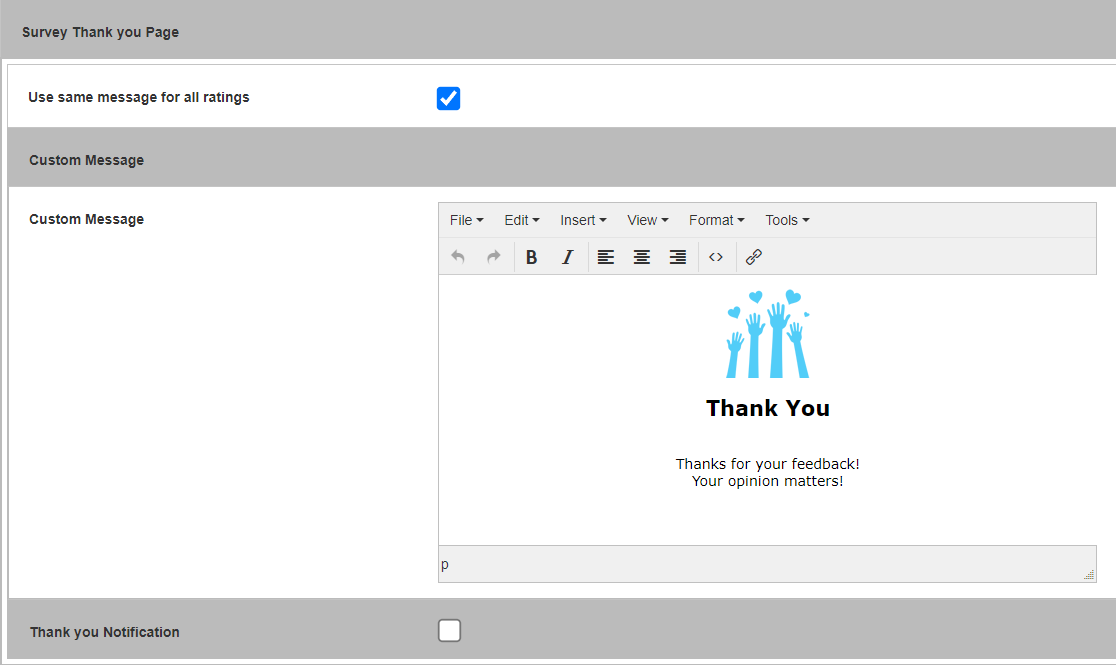 13. Online Reviews - increases the number of online reviews on Google, Linkedin or Facebook, by asking customers to share their amazing experiences. Online reviews not only improve your online reputation but also increase your SEO, driving more traffic to your marketing website. Please refer to Reputation Management: asking for online reviews after a positive rating

14. Testimonial Widget - automatically showcases feedback received with surveys, adding credibility to the company's reputation. Making feedback public can help to close sales, to improve organic search with SEO, to drive more natural traffic to your website and to keep the company competitive in the marketplace. Find out more at Automated Public Testimonial Feed

_
Kaseya BMS Setup and Test
1. In Kaseya BMS, go to Admin > Business Process > Email Templates and click on Edit symbol on the template that you want to use to collect feedback from your clients. On this example, we used the Resolved Snippet on the Notify Client Ticket Closed template: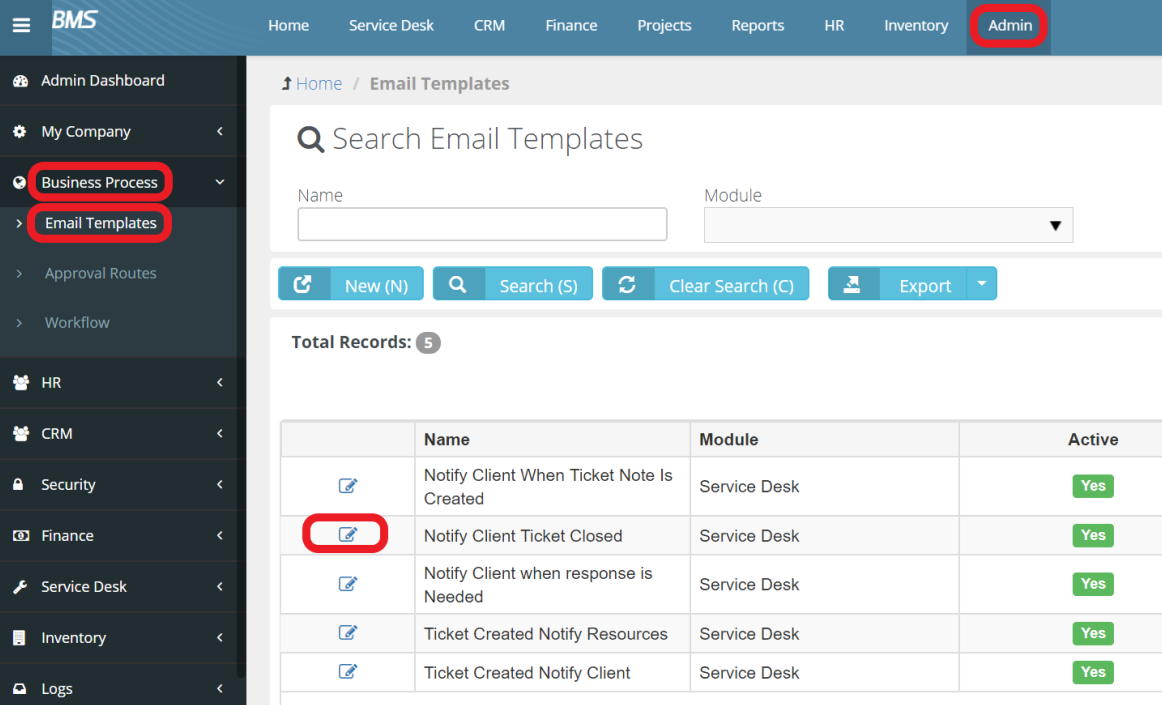 2. In the Email Template Details section, click on HTML and paste the Crewhu Snippet in a convenient spot. Revisit steps #9 and #10 if you need to copy the snippet again.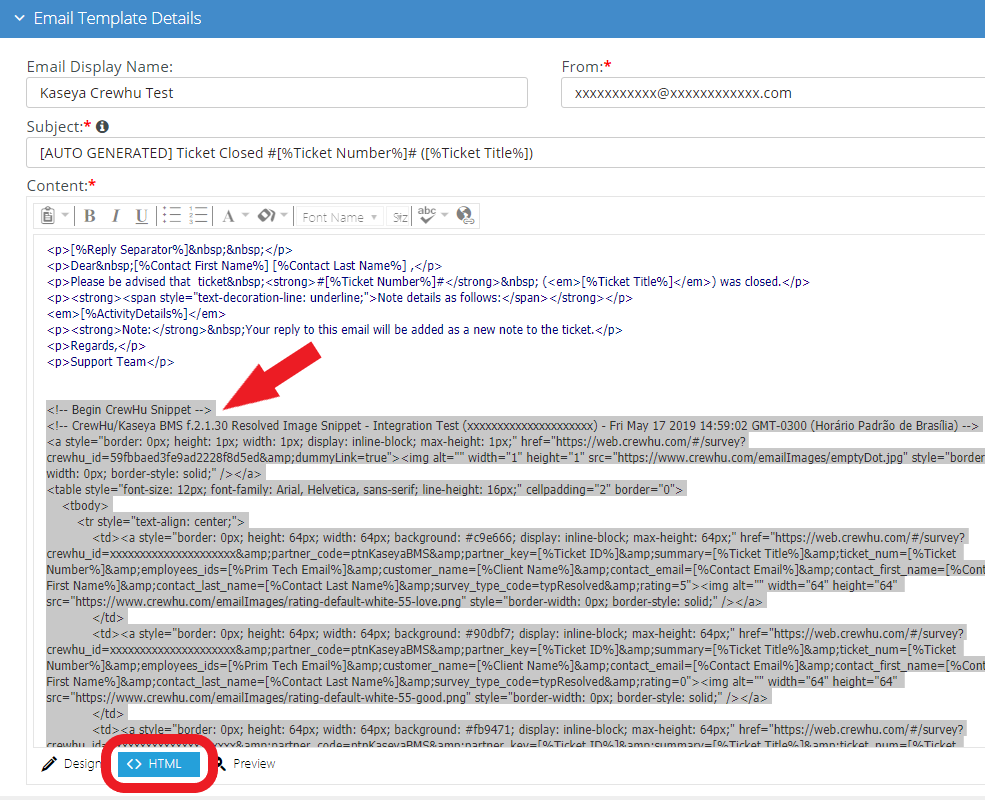 3. Click on Preview to check how the snippet will look like on the template. Once you are happy with it, click on Save.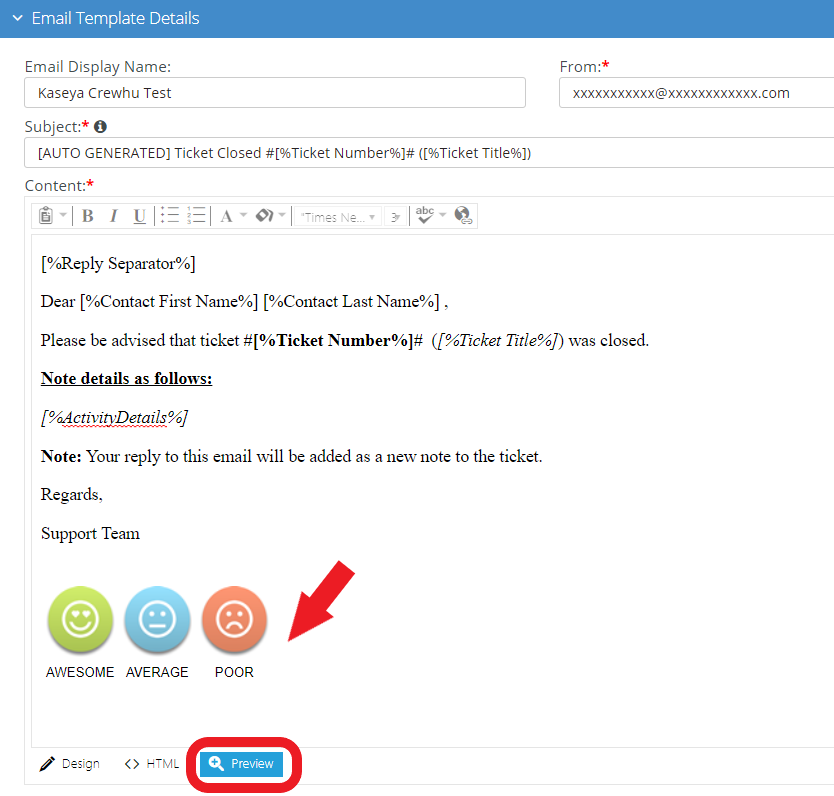 4. Create a test ticket in Kaseya BMS and answer the survey
Choose an Account and a Contact that uses an email address that you have access to;

Give the ticket a status that triggers a notification that uses the email template that contains the Crewhu Snippet. On this example, Status = Completed;

Open the email, review your template and click on one of the faces: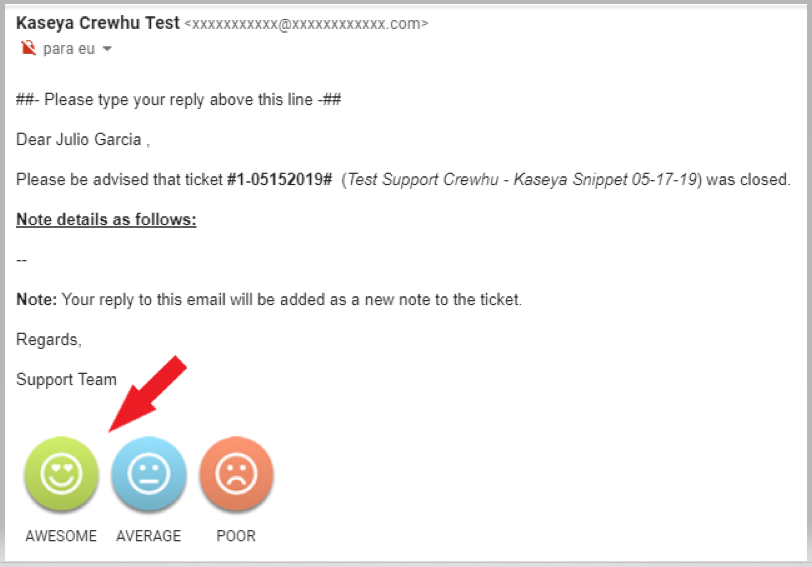 On the survey landing page, choose tags, write feedback, and click on Submit: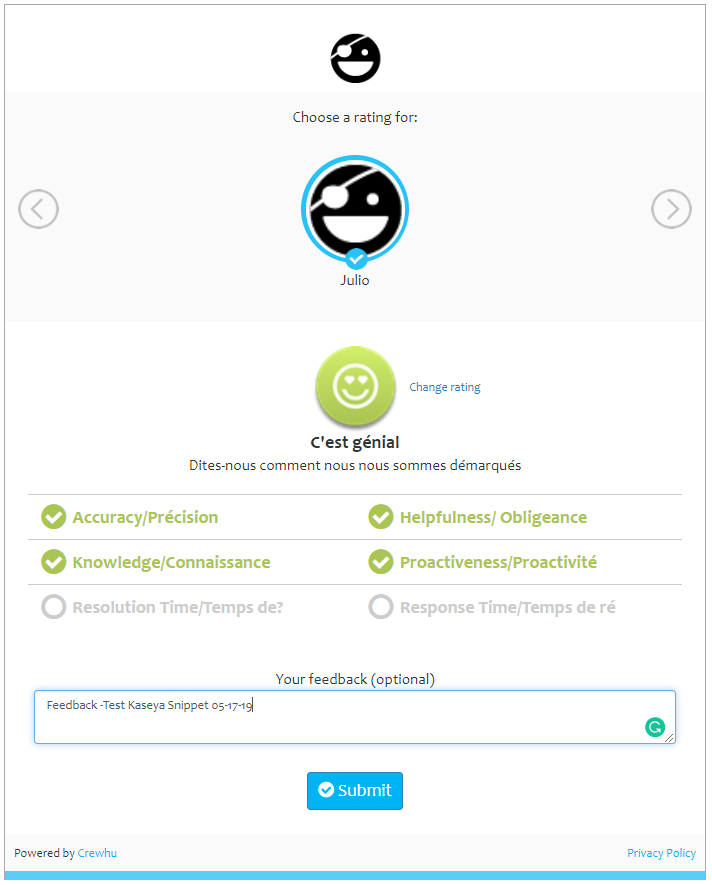 On Crewhu, go to Operations > Survey History and check if the survey details are correct.

If the ticket details are correct you are ready to collect valuable feedback from your clients!
Please reach out to support@crewhu.com if you have any doubts or suggestions.