Requirements:
A Crewhu Pro or Badass account with Admin permissions.
Business Purposes:
To increase the company's amount of online reviews on Google, Linkedin or Facebook, by asking customers to share their amazing experiences. Online reviews not only improve your online reputation but also increase your SEO, driving more traffic to your marketing website.
Recently released- To improve your SEO even more, check out our Automated Public Testimonial Feed.
Feature description: This new feature allows configuring a landing page that, after a positive rating on a survey, displays links for online reviews on Google, Facebook or Linkedin.
Step-by-step
To enable this feature, go to Settings > Survey and check the Online Reviews box, as in the image below:

After that, copy and paste Your online links (at least one of them) and mark your preferred online property as featured. See how the main feature renders in the screenshot at the end of this article.
Below are the detailed steps to configure your online reviews:
1 – One of the links must be marked as Featured. In the example below, Google was chosen as the main feature, meaning that we prefer customers to review our services through this channel. 

The best practice to achieve higher review conversion rates is to make sure that these links take the user straight to the review page so no extra steps are required.
2 – In the Landing page workflow section, you can decide how often a request for review will be sent to your client. Select one of the following options from the drop-down menu: 

Always – the user will see a landing page with a request for review, every time he gives a positive rating;
Do not show more than n positive ratings – set the frequency that the user will get the review request. In the example below, I chose that the system will wait for 5 positive ratings until it sends the next request for reviews:

Do not show more than n days/hours – here you can adjust how many days your client will go without seeing the online review request on the landing page. In the image below I chose that the system should wait 5 days between each request for a review after a positive rating:

After choosing your settings, simply click on the Save button at the top of the page. Your reputation management landing page will look like this: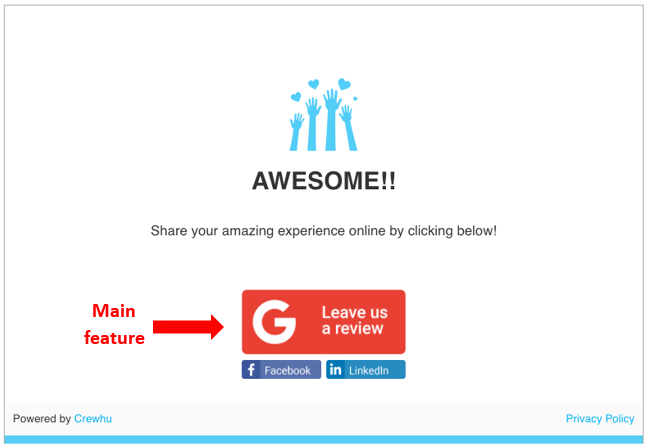 The best practice to increase the conversion rate is to create links that take the client straight to the Reviews and Recommendation pages, avoiding extra steps. See below instructions on how to get these links:
Reputation Management - Create direct links to your Google Reviews and Facebook Recommendation pages
For more information about surveys settings, click on the link below:
Setup Resolved, Reply, Signature Surveys