_

Summary
_
What is it?
Our Connectwise integration will allow you to bring tickets automatically into your Crewhu account and set up contests for metrics that will lead to higher customer satisfaction measured by CSAT%.
-
Why does this matter?
Gamification is the best way to change behavior and habits that will not only help the individual but also the team and the organization as a whole. The Connectwise integration will make it very easy to launch a gamification program that focuses on the metrics that matter to maintain a culture of amazing customer service and collaboration.
_
3 Categories of Metrics That Matter
1. Ticket Completeness
The purpose of a ticketing system other than to answer your client's issue in an efficient manner is to collect data, improve your process, and ultimately the customer experience for your clients. However, if your team is not collecting the right ticket information you will not know where to focus. You know the old saying: "Garbage in, garbage out".
_
Categorized Tickets
A well-documented ticket will have a categorized:
Service Type
Sub Type
Item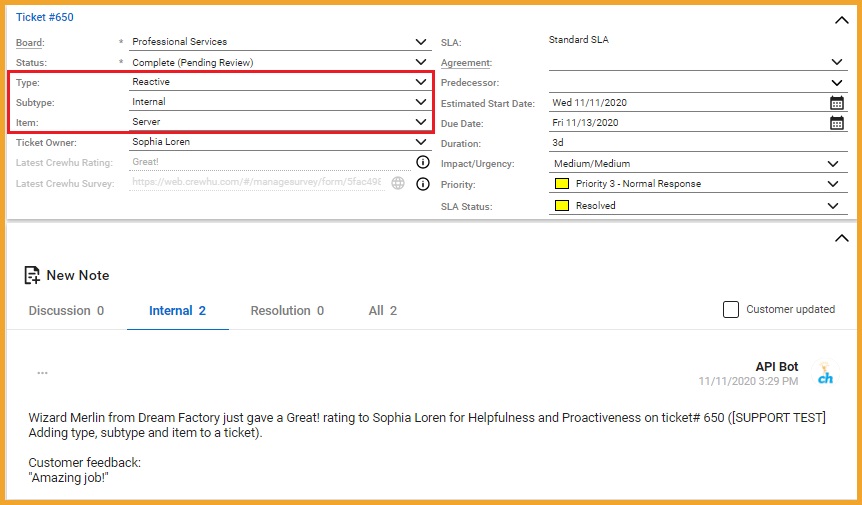 Metrics that will help your team focus on delivering correctly categorized are:
% of categorized tickets - These are the % of tickets an individual or team has resolved in a specific time frame that has service type, subtype, and item categorized.
# of tickets resolved with "Type" categorized.
# of tickets resolved with "Subtype" categorized.
# of tickets with "Item" categorized.
_
Agreements and "Catchall"
Besides proper categorization, it is also very important to make sure each ticket belongs to a company and has an agreement attached. If not, there could be consequences that negatively affect your data analytics and customer service.
If a ticket does not belong to a company in Connectwise it will default to the company "Catchall" and any time billed against the ticket will not be associated with the correct company. If the billed time is not tracked, management will not be able to accurately track profitability by the client.
If a company is associated with a ticket, however not with an agreement, the customer can be billed for something they are already paying for causing unneeded billing issues and poor customer experience.
To avoid these mistakes you can use negative metrics, as listed below:
# of no agreement tickets resolved - # of tickets resolved not attached to an agreement.
# of Catchall tickets resolved - # of tickets resolved not attached to a company.
Note:
A negative metric either has a negative score associated with it or is measured by "lower is better".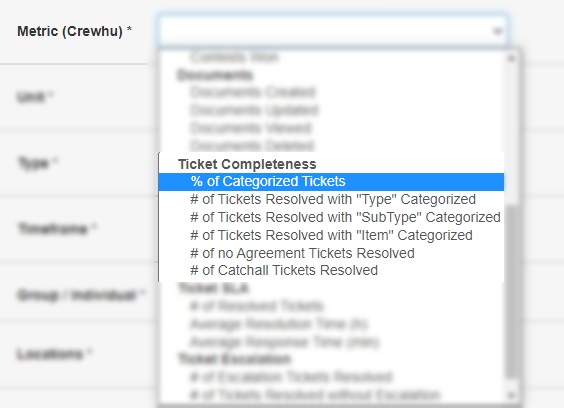 _
2. Ticket SLA
Service Level Agreements is not only a promise you make to your clients but it is also a way to prove your value. The metrics most closely linked to high customer service scores are average first response times and average resolution times. Focus on these and high customer satisfaction will follow.
# of resolved tickets - # of tickets set to escalation status resolved
Average Resolution Time - time from ticket submission to first response + time in resolution plan status + time in resolution status. Resolution time does not include non-work hours such as weekends nor time when in status "waiting for customer response".
Average Response Time - the time from ticket submission from the first response to the customer.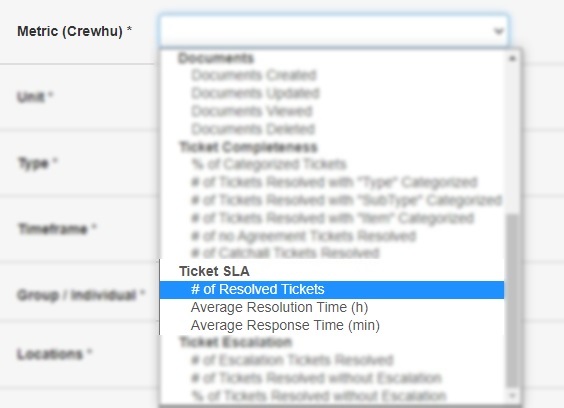 Notes:
• Average resolution time is measured in hours. Which is how resolution time is normally measured on SLAs.
• Average response time is measured in minutes. Which is how resolution time is normally measured on SLAs. Also, for this metric, you have to have SLA implemented, where Crewhu considers the "responded_mins" field of the tickets.
_
3. Ticket Escalation
Usually, the root cause of not hitting SLA metrics can be linked to your staff's knowledge, incorrect triage, or undocumented processes, or endpoints. In a perfect world, you would hit your SLAs 100% of the time and there would be zero escalations. However, since the world isn't perfect you should focus on the below metrics to manage efficiency. You should also recognize those that are helping resolve escalations and answering tickets without escalation. Soon you will see your ticket escalations decrease along with your resolution time and client satisfaction.
# of escalation tickets resolved - escalation tickets are tickets that have a different resolved by ID than responded by ID.
# of tickets resolved without escalation - tickets that have the same employee ID for both responded by and resolved by.
% of tickets resolved without escalation - % of tickets resolved with the same employee ID for both responded by and resolved by.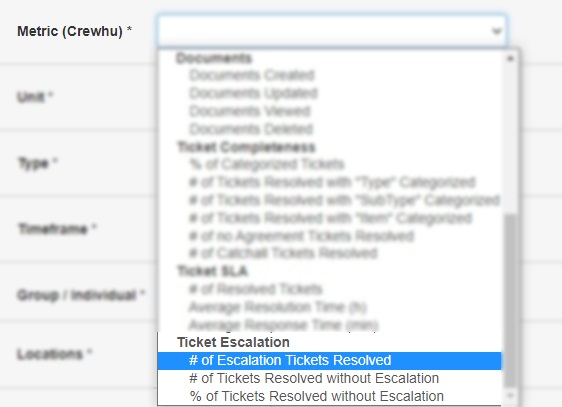 Important:
If the first reply comes from a Service Coordinator, the first responder will always be different than resolved by and the escalation metric will not make sense. However, if best practices are followed the escalation metrics will work.
Best Practice:
It is best practice to have the first response come from the assignee of the ticket and not the assignor. It is also best practice to have a service coordinator assign tickets to prevent "cherry-picking".
_
How Does it Work?
_
Selecting the Boards
After setting your integration with Connectwise, you can start collecting ticket information to populate the metrics. (Click here for more details about the CW REST Integration).
Access Settings > CSAT, locate the Miscellaneous section and enable the "Bring ticket data from PSA" to display a list with your service ticket boards. Select all, one or multiple boards.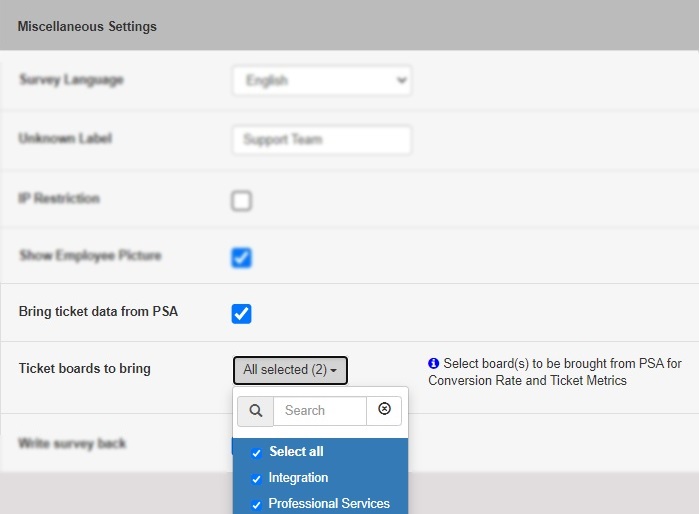 Note:
• It can take up to 15 minutes for the system to give you an updated list of the service boards, which is the periodicity of our API call;
• Ticket data will be collected from the 1st day of the month on which the boards are selected.
_
Creating a Contest
Go to Contests and click the "+Add" button to create a new contest.
Choose "Crewhu Metrics" as the contest Source and select the metric from the drop-down, as shown below: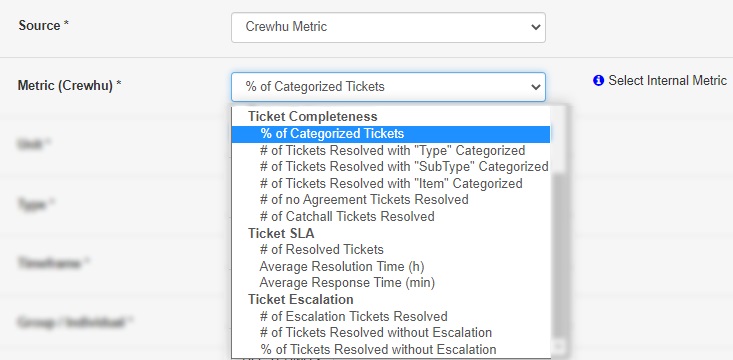 Note:
Click here for more details on how to create SMART Contests
It is possible to combine these metrics and create customized scores. For example: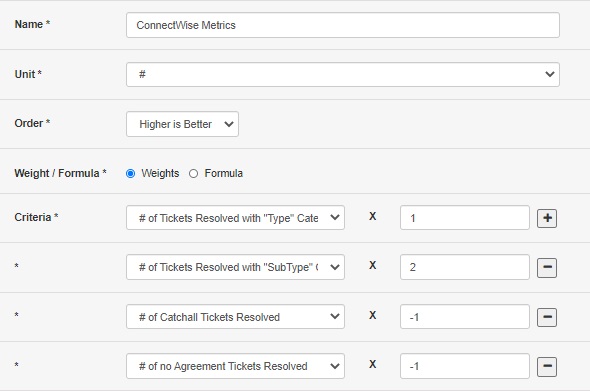 Note:
Click here for more details on how to create Scores