_
Summary
_
What to do
Perhaps one of your contests is not updating, and that is, not bringing your employees' results, compromising the leaderboard.
Here are some possible settings that might be causing this:
-
Employee ID is different than the PSA
When the contest is based on a PSA metric, such as Autotask or Connectwise, the employee ID in Crewhu needs to match the employee ID in the PSA. If it's not a match, Crewhu isn't able to identify the right employee in order to update the contest.
Refer to this article to have more information about it: Match the ID in your PSA.
Note:
IT Glue integration is based on the employee's email, and not the employee ID.
-
Bring ticket data from the PSA
If the contest is based on a metric related to the tickets in the PSA, such as Resolution and Response time, the option "Bring Ticket Data from the PSA" needs to be enabled, and the right board(s) needs to be selected. In order to do that, you have to go to Settings > CSAT, and check under the Miscellaneous Settings, as shown: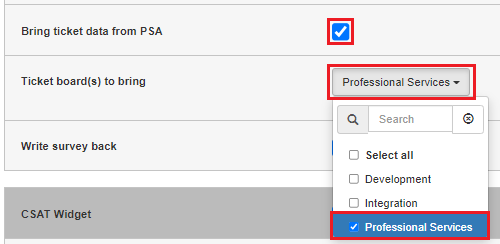 If this option and the right boards are not enabled, Crewhu won't be able to collect the data from the PSA.
-