What plan do we have?
_
Summary
This guide will show you how to activate and access Crewhu's Conversion Rate Report.
Important:
Crewhu's Conversion Rate Report is currently available for Connectwise users only.
Business Purpose
CSAT surveys help you to measure how happy your customers are with your services. The more feedback you receive the more significant insights you can get to help understand a larger number of customers and to hear a wider range of opinions. That will ultimately help you identify opportunities and pain points. But to obtain a high volume of responses can be challenging.
Crewhu's Conversion Rate Report easily helps to identify how engaged your clients are in providing feedback and can be used to create strategies to keep the number of responses high.

_
What is Conversion Rate and how it is calculated?
Conversion rate is the # of survey responses compared to the number of resolved tickets from specific Connectwise boards (Best Practice: Only include boards with tickets that include the Crewhu survey snippet).
The formula is the number of survey responses / the # of resolved tickets (on specific boards).
Important:
The Conversion Rate (CNV) Report counts the number of tickets closed in the given period. Tickets with different statuses are ignored in the formula.
Note:
There are three types of surveys in Crewhu: Resolved, Reply and Signature-Surveys. Reply surveys allow more than one answer per ticket. However, Crewhu's Conversion Rate report considers only 1 survey rating. In other words, if more than one "Reply" survey is associated with the same ticket, CNV will still be 100% for that ticket. Resolved surveys can only be answered once (1 ticket = 1 answer = CNV 100%) and Signature surveys do not count on the Conversion Rate formula.
_
How to turn on and use Crewhu's Conversion Rate Report
To turn on the Conversion Rate report go to Settings > CSAT Settings > Miscellaneous Settings. Check the option "Bring Ticket Data from PSA". Choose the boards from Connectwise that you want to measure and click "Save".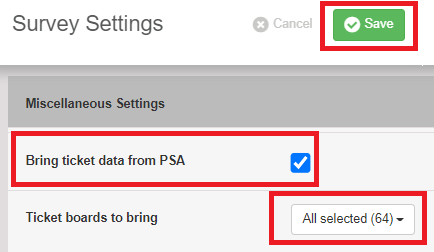 Important:
1) Select only the boards from where you trigger notifications to your clients with the Crewhu survey snippet;
2) Regarding the boards you choose from Connectwise, we read the ticket information from the beginning of the month;
3) The boards you select will also use the Badass feature Connectwise Integration: Helpdesk Metrics to Improve Customer Satisfaction
Go to Reports > Conversion Rate (CNV):
By default, you will see the Conversion Rate report with the following filters:
Timeframe: Rolling, last 30 days
Scope: All boards, All Locations, All Teams
Group by: employee
Employees: All Employees
Customers: All Customers
Survey Types: All Types
Survey Status: All Surveys
Click on the dropdown menus to see the options available for each filter.
Below we used a few filters to drill down the report data: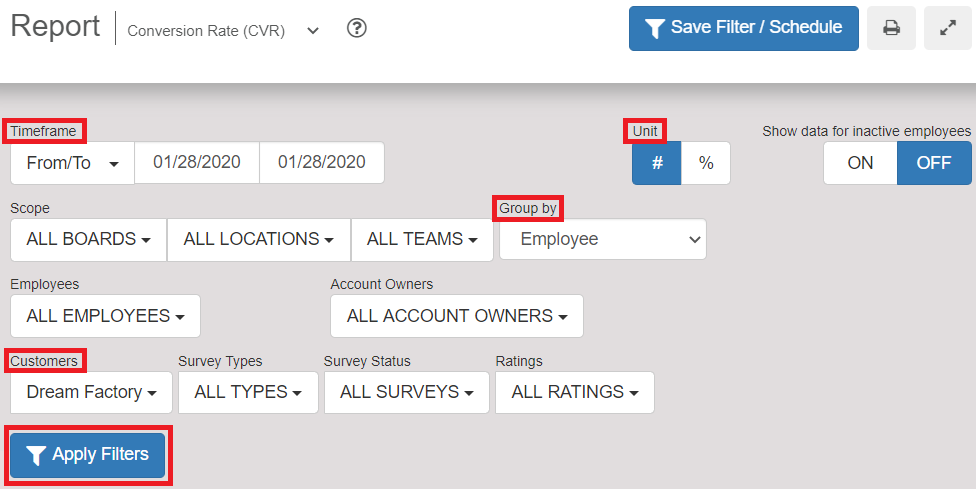 Below are the results. Note that the conversion rate in that given period is 33,33%. Basically, 3 tickets triggered surveys to the clients, and only 1 of them was rated.

Note:
Click on the left-facing arrow at the end of the line (highlighted above) to drill down the results.
Best Practice:
Click on Save as custom / Schedule an Email to save the filters that you use regularly. You can choose to send reports via email to other Crewhu users (shared visibility) and how often you want to send them.
To access saved/shared reports in Crewhu click on Reports and then on the tabs My Filter, Shared Filters, or Customer Filters. See the example below: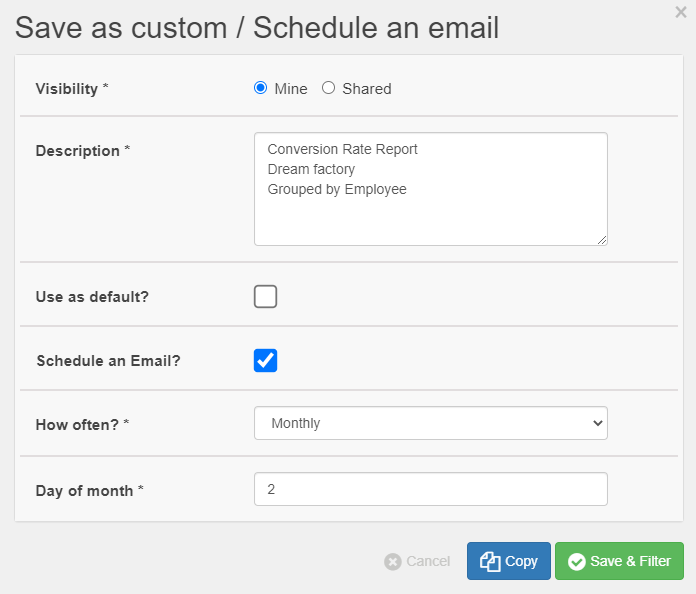 Check out the articles:
Best practices to increase Conversion Rate on Crewhu's CSAT-Surveys