Requirements
Available on Crewhu Pro.  
You will need access to IT Glue's API key in your IT Glue account.
Integration
Crewhu + IT Glue integration will enable you to create documentation KPIs, measure KPIs and then reward your crew for hitting documentation goals using goal based contests.  The KPIs are based on metrics and scores listed below:
Documents created
Documents updated
Documents viewed
Documents deleted
IT Glue engagement score
Custom documentation score
Activate Integration
In Crewhu go to the Settings>Integrations. Then check IT Glue integration and paste IT Glue API key generated from your IT Glue account. See step 2 in the below link:
Once the integration is on, you will then create a KPI based on an individual documentation metric or documentation score.
Example #1 - IT Glue Documentation Engagement Score 

 Create a Documentation KPI
Go to Setup > Contest > KPI
Add KPI
Choose source - Metric or Score
Choose #
Choose timeframe (weekly, monthly or quarterly)
Name KPI and fill in description
Choose "Higher is better"
Set as recurring if you would like the contest to automatically recur and launch on staert date.
Example #2 KPI based on IT Glue Documentation Engagement Score- *Great KPI for helpdesk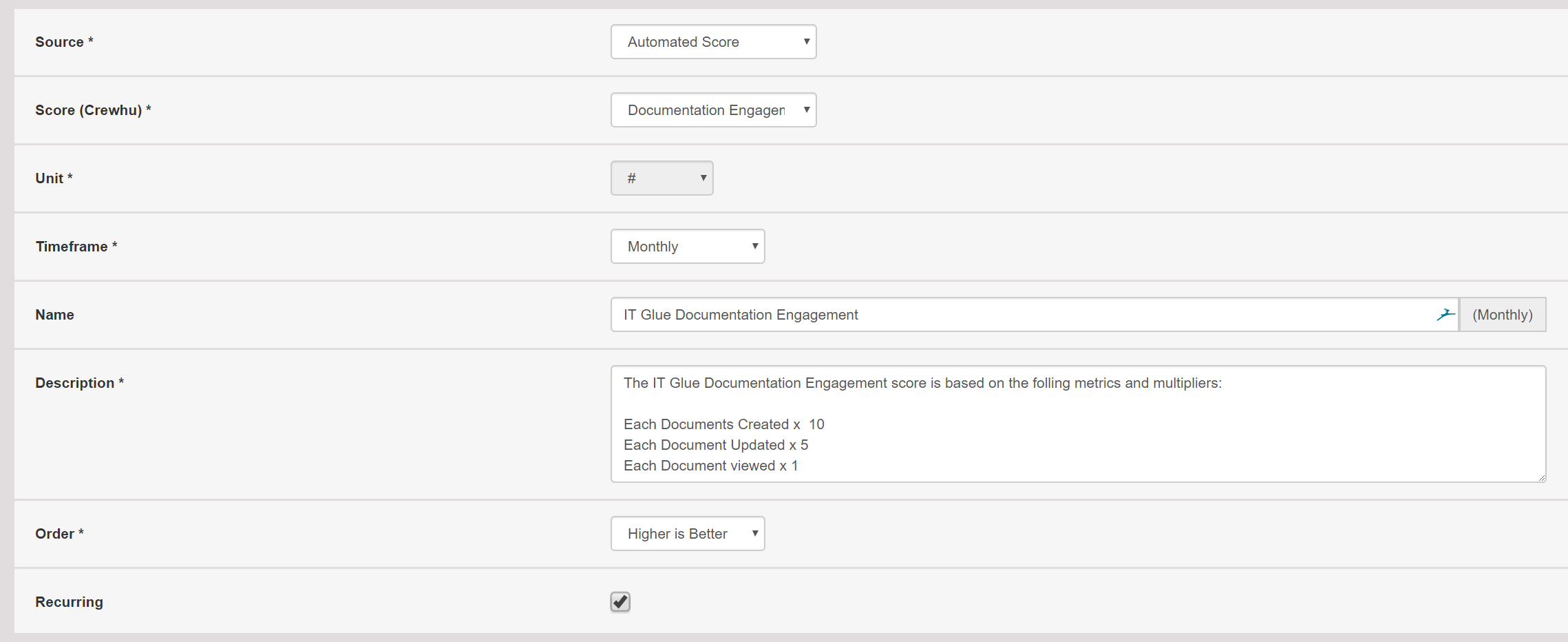 Example #3 KPI based on IT Glue document Created - * Great for  Technical Account Managers (TAM) responsible for new client onboarding

After you created a documentation KPI you are ready to create a goal based contest to reward great documentation practices.
Create a Documentation  Contest
Go to Operations > Contest.
Click "Add."
Choose KPI.
Choose contest "type" and "scope."
Add contest rules to description if necessary.
Choose time frame
Check recurring if you would like this specific contest to recur and launch automatically



Example #4 Goal based contest based on the IT Glue Documentation Score KPI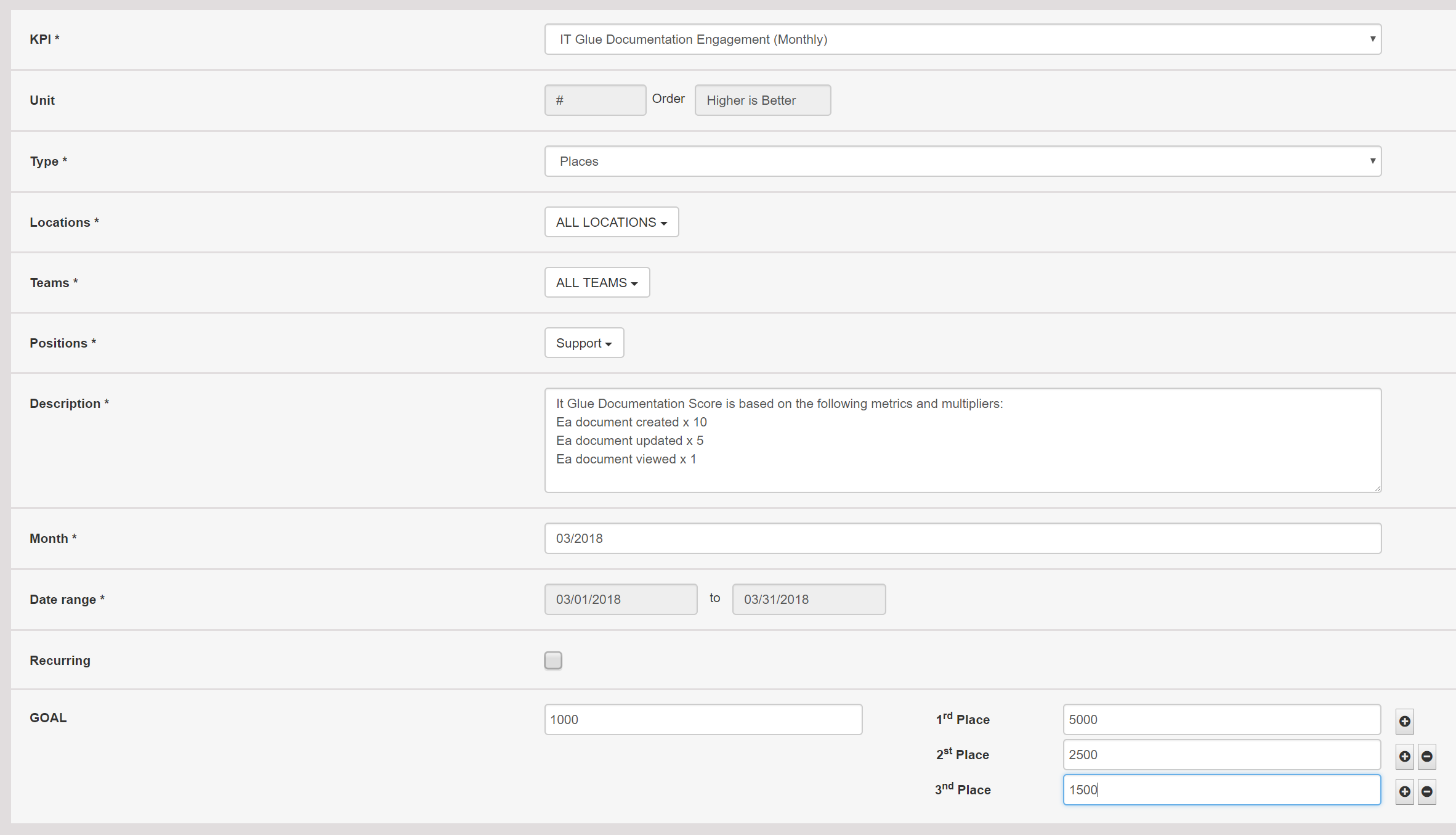 Note contest rules in the above example:
to qualify for reward you need to reach an IT Glue engagement score of 1000
This is a places contest so 3 team members will be rewarded for 1st, 2nd and 3rd places.
Example #5  IT Glue Documentation Engagement Leaderboard- your Crew will be able to view leaderboard and contest details in their account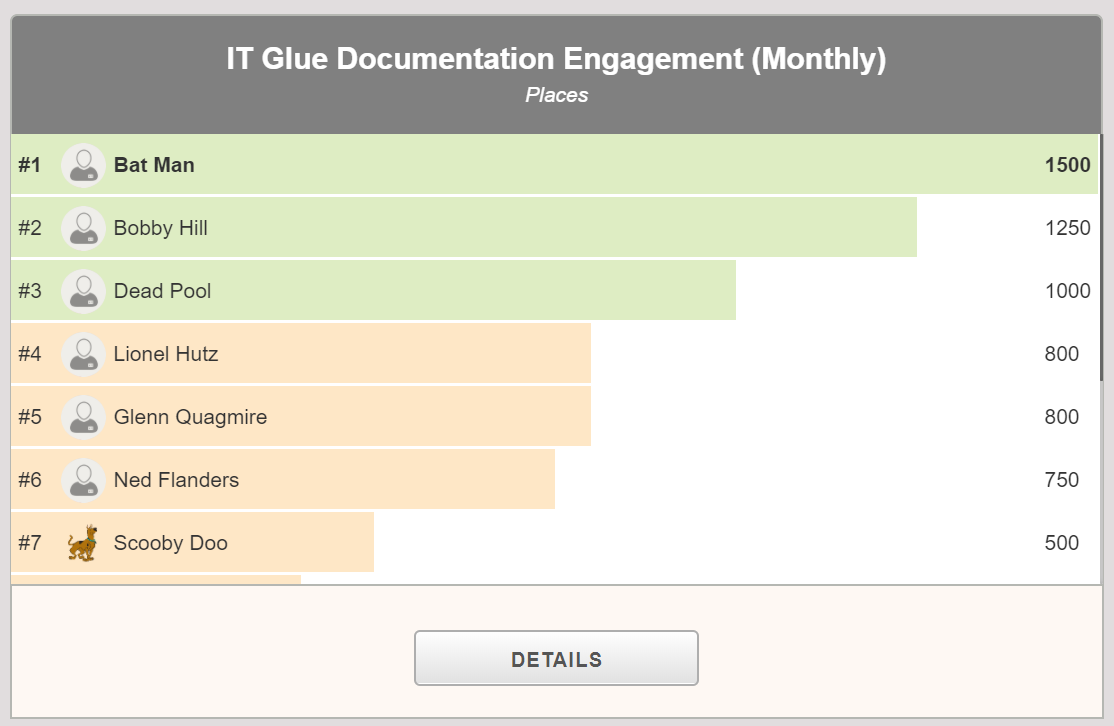 For more information on metrics, scores, KPIs, and Contests view below articles:
Scores - Keep your crew engaged
Key Performance Indicators - KPIs